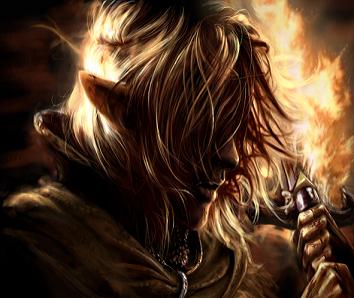 Hethurin Naruga04/24/2018
Braidwood is lead by the Fire Elf King Hethurin Naruga, it sits both on and around Mt. Naruga, Brimstone Keep sits on the side of the volcano overlooking the land held by the elves. Beneath, sits the various districts of the kingdom, a reasonable climb from the castle is the steps to the temple of Flame which sits, on an island of rocks around but not in the exact center of the volcano, a bridge of obsidian links the temple to the rim where the ascending steps end.
A barrier sits around the keep, offering protection for those less tolerable of the heat radiating from the volcano. A single road down the mountain is one of the few things that connects Braidwood to the rest of Valeria. 1,825 steps lead up to Brimstone Keep. A statue of a regal fire elf carved from obsidian sits in the courtyard. Upon entering the Main Hall, visitors and nationals are met with cathartic motifs depicting the history of the kingdoms stretched across a marble ceiling. Reliquary of all shapes and sizes sit atop pedestals and in Maplewood display cases lining the walls which are covered in elaborate paintings crafted by the Kingdoms most esteemed artists over the centuries.
The ending of the main entry way is a four way intersection, the biggest of the doors continuing straight leads to the Throne Room, more ornate than the Main Hall. The polished Obsidian floors reflect the crystalline chandelier, floating just inches beneath the marble ceiling, casting it's warm glow on everything around. Pushed to the back wall sits a large structure known only as The Obsidian Throne. The Thrones shape is more aesthetically pleasing than even the words of a well poised writer could convey, upon closer inspection, it can be seen that the entire throne is covered in Runic markings identical to those displayed on the burgundy rug that leads from the foot of the Throne to the door of the castle.
-------------------------------------------------------------------------------------------
Hethurin Naruga04/24/2018
Hethurin sat atop his throne, his body draped in fitted in silk robes coloured sangria, his hair was red as flame, and just as unruly when left to its own devices. Flanking his throne are his elite guard, clad in jet black armor, trimmed with silver, all standing watch with obsidian Halberd in hand. Het could be seen lazily twirling a strange looking crystaline focus in his hand, watching the item absently as musicians played across the room. Brimstone Keep was full of life on this day, which wasn't at all shockingly different from any other day.
On slight occasion, his fiery hues would occasionally drift up to the door, seeming hopeful or even expecting of new company other than the occasional priest/priestess that come and go.
Jesse Morson04/26/2018
: Baralineth slowly stalked her way down the long hallway, her lips pulled into the slight scowl she wore when she was playing with an idea in her mind, tossing it over and over in her head. She was mulling over something she'd read about the importance of maintaining the inner and outer calm. She was wrapped in the typical, well-worn sangria robes custom of her and her people. Her hair was better kempt today than usual, and was tied back into a ponytail for the sake of it staying out of her way while she was reading.
She was on her way to visit her brother, intent upon conversing with him for once. It had been a good day so far, and she was hoping he would be up to more today than she'd be up to.
Hethurin Naruga04/26/2018
Having had enough of sitting around for the better part of a few hours, Hethurin got up and began his walk towards the door, stretching as he walked, just like clockwork two guards opened the door for him and he passed through the opening, seamlessly making a left turn where another door was opened for him immediately. The doors being opened was one of the many things that Hethurin felt he could never get tired of, the efficiency of the doormen was astounding to him, though it wasn't as if he hadn't been faced with it so many other times before.
Not paying too much attention to his direction, or what was even in front of him for that matter, The King felt a firm, yet gentle grip on his shoulder as one of the guards behind him gave hold in just enough time to stop him from sending his sister toppling to the floor as he'd done oh so many times before, matter of fact some do in fact concise that paying attention under certain circumstances are definitely not one of the king's strong suit.
Jesse Morson04/26/2018
"Oh shit. Hethurin. Fancy seeing you outside of the throne room, I was on my way to come see you. Are you busy?" She asks, her native tounge rolling off her tounge with ease. She peers up at her younger brother, waiting patiently for his reply. "Castien, thank you for the save. Pretty out there today, aren't we brother?" She asks, smirking a little at her brother's typical air-headedness. The guard had been there to save her from being trampled by her brother a pretty big number of times since being posted in that position.
Hethurin Naruga04/26/2018
"Well if by busy you mean doing absolutely nothing, then yes I am quite busy." He said waving for Baralineth to walk with him, and as usual Castien followed. "The days have been quite slow as of late." Het admitted, "Though it does not bother me quite as it would others in my position, I quite like the quiet, for it means there's no war, all the peasants are happy, and more importantly it means Lilutha is happy and not about to eat me alive. As much as I love that woman, she is absolutely terrifying when she's angry." said the Elf in his native Ignan tounge, it was quite a longer response than had previously been warranted by his sister's question, and it didn't quite answer all that she'd asked him, but again comes another one of his specialties, beating around the bush...
Jesse Morson04/26/2018
"You shouldn't talk that way about your wife. You're married, and even if you weren't, don't you share a room? I'm pretty sure she would slit your throat if she heard that." The older sister replies, walking alongside her younger brother. Her gaze drifts over to him for a moment, her eyebrows raised until she returns her gaze to the hallway ahead of them, watching where she's going. She knew he loved his wife, but she enjoyed messing with him from time to time.
Hethurin Naruga04/26/2018
"I'm quite sure she enjoys my acknowledgement of how and I shall say again.. Terrifying she can be." He muttered. "And I'm sure everyone here knows aswell, though back to the original point dear sister, you said you had something to speak with me about?" asked the elf, tilting his gaze slightly towards his sibling. "I'm sure it must be quite important if you've decided to make a trip to Brimstone today, unless you walkedall that way make more regicidal wise cracks as I can assume would be most of your reasoning."
Xaei (Iotah)04/26/2018
It wasn't long into her book that Lilutha became bored, this is why she didn't like accepting gifts, no one knew a good book like she did, even if the guest that gave it to her was a visiting noble. At least she could say she tried. Lilutha Naruga is the Queen of Braidwood, a graceful but stern woman, loved and feared by her people, for her way with people, both allie and foe alike. Heth was her King, and had been so since before she was born, their fate carved in the heavens. They have both been together for a life time, by humans standards, however her lack of ability go provide an heir has been weighing heavily on her, and for the past few days she had been ignoring the king, his letters, signs of affections, his love for her, and she for him... it broke her heart that she couldn't give him what he needed... In a shut off state, eyes fixed on the floor she didn't notice that she was about to walk into the two, the king and his sister. If his awareness was too late she'd bump against them both and fall over.(edited)
Jesse Morson04/26/2018
"Well, I was studying the newest batch of books from the city when i realized that-" The older sister abruptly stops, her left hand flying across the chest of her younger brother, attempting to stop him from trampling his queen. "Hey, good to see you around Lilutha." She says, internally praying that her sister-in-law hadn't heard a word of what they had said. She had lived for 227 years, and really didn't want to lose one of her limbs over a smart-ass remark made in passing.
Hethurin Naruga04/26/2018
Stopping abruptly in his tracks, he angled his gaze down an moved past his sister scooping his wife into his arms hugging her tightly. "Finally out of your room darling?" He asked stroking her cheek softly, "I missed you in the throne room, I must have sat there for hours!" He jested, but deep down he knew that it was no time for making jokes, with everything that had happened he had to find some way to show her that for him an heir didn't mean everything; however, he didn't really have any idea whatsoever to be able to convey that thought to her other than just outright telling her. The ideals had been so deeply ingrained into their upbringing, but now was not the time nor the place to have that conversation. "Darling, I really wish that you would come around with me once more... I do miss you terribly, more so than I could ever hope to tell you." the King stated looking down so that he may catch her gaze if she decided to look up.(edited)
Xaei (Iotah)04/26/2018
Lilutha had heard neither of their voices, the sound was like a soft buzzing in her ear and there was so much of it around her, people staring at her and talking about her in a whispered tone. Which was brave of them. She was caught off guard and screamed when her body was scooped up into the air, hands flailing about she tried to grab onto whatever she could, which ended up being his coat. "Wha-What are you doing?" Feelings didn't mean much at court, public displays of affections even less so. Her cheeks had burned a bright red, and she looked between her husband and her sister in-law. "I ... I miss you too. But, I just ... I can't do this right now..." pushing her hands against his chest, she squirmed trying to get out of his grip. "Please let me go, I do not want to make a scene."
Jesse Morson04/26/2018
As Lilutha was picked up Baralineth watches on, returning her arm to her side. Recently her sister-in-law had become reclusive, but this little run-in felt a bit like the first warmth after a dreadfully long winter. She had been praying for her sister-in-law recently, as she had become more and more hidden away, an issue Baralineth was growing more and more concerned over, given the mildly disheveled appearance of her sister-in-law. Pushing her worries aside she returns to reality, watching the two of them embrace eachother.(edited)
Hethurin Naruga04/26/2018
He nodded with a sigh and released his gentle grip on her. "I understand, but there is something I must tell you later if you would be willing to meet with me in a place with less... Ears and eyes." he said to her, hoping for a more positive answer than he might have recieved in the past. Castien gave the Queen his usual glance just as he would when they were children, the glance that told her she should atleast consider it. If there was one thing Castien knew is that no matter how old the two got, he was still responsible for them, and no matter how much power they had, they were still in his heart, the children that he'd have to save the other guards from, no turn of events or changing of titles would ever sway his opinion, for he essentially raised them.
Xaei (Iotah)04/26/2018
Climbing out of his arms, she looked briefly to Bara, trying to give her a reassuring smile. Turning her attention back to Heth, she saw Castien, the man whom for many years has seemed almost like a father to them, gave her a concerning look, he didn't need to be told what was happening, to know what troubled her. He was wise like that. Lowering her head slightly, she'd give a small curtasy. "I... will await your word on where we might meet later this evening... I will be in the library in the meantime... I'm sorry." Her apology was for many things, she couldn't her her feelings no matter how hard she tried. Disappearing from sight as quick as she could, Lilutha hurried to the confined walls of her favourite room in the castle, the floor cooler than the rest of the castle, the whole room was which protected the books, an arrangement set up by the King, for the both of them did love reading. She waited, reading books to pass the time.
Jesse Morson04/26/2018
"Please be well." Baralineth whispers, taking a glance up at the ceiling, staring through it, praying to the ashes. She drops her gaze back to her brother for a moment, smiling gently as she grabs her right hand with her left, waiting patiently for her sibling to continue walking. Her worry was growing ever stronger, and this return to seclusion added with a cryptic meeting didn't help.
Hethurin Naruga04/26/2018
Watching Lilutha leave, he shook his mind clear and began walking once more. "You were saying dear sister?" he asked calmly, "I got a little too side tracked and I'm afraid i've forgotten your reason for venturing back to Brimstone, as I said I am quite sure it must be important for you to descend from the temple for an otherwise...mundane... visit, as I am sure your visits with the sisters of flame are more... enlightening than being in my company." The Elf muttered, still trying to push the previous happenings to the back of his mind in hopes they wouldn't continue to bother him like they were until he could get a chance to speak with his wife.
Noticing his discomfort, Castien placed a hand on the King's shoulder and nodded with soft words. "I'm sure everything will be fine m'lord, the Queen just needs some time." with that said, Hethurin gave a sigh and ran his fingers through his unruly red hair, his bangs falling back into his face as his fingers swept through. "You're right, it's always turning out alright in the end for us."
"As it should m'lord." Castien finished.
Jesse Morson04/26/2018
"I came down to talk to you. I've grown tired of reading for the day, as much as it is entertaining, there isn't much you can get out of them as far as conversation." She simply replies. She looks between Castien and her younger brother, considering what she should and could do next. "I dunno, seems like you guys have gotten pretty busy around here. Do you need an ear brother?" She asks, the rude nature of the question not popping up into her mind until she'd already spoken. She adjusts her sleeves, a bit of a nervous habit, and looks to them for a reply.
Hethurin Naruga04/26/2018
He shook his head. "Its a matter of personal business, that shouldn't really be shared, especially not in such... open company." He said gesturing around to the random passersby who seemed at that moment to be minding their own after all was said and done. "Though I'm afraid until I get these personal matters dealt with I won't be much company, though I do appreciate the offer sister, but i'm afraid to say and I do so with all due respect, it's no matter that a Priestess of the sister's would really be able to assist in to my knowledge, it is one that must be addressed privately and without the arcane or the... wandering eye."
Jesse Morson04/26/2018
"Alright. I should probably head back up to the temple in that case." She replies, nodding gently as she takes a look around, peering around at the other people near her, realising just how crowded this hallway really was. "Oh, i almost forgot! Before I go, i was wondering if you knew of a quality carpenter near here, i'm hoping to obtain a walking stick." She asks, looking over to Castien as she seeks answers.
Hethurin Naruga04/26/2018
"Castien, once you give your recommendation, I would be thankful if you would send for LIlutha and have her meet me in the royal chambers." Hethurin stated as he walked off. "It shall be done M'lord." Castien said before turning to Lin. "The best place I can recomment is a man named Akath in town, he's in the lower market district, has a small house with his family, if you ask around, anyone would be willing to show you the way." and with that Castien set out to the library to go inform Lilutha of the Kings summons.
Xaei (Iotah)04/26/2018
"Your Highness?" Castien said, knocking on the door to the library before entering, shutting the door behind him. The Queen was sat up on a banister, hanging down in front of a small window, with a book in hand. "Hello Castien. What brings you here?" Lilutha asked, shutting the book and proceeded to fall the few feet to the ground, landing gracefully. "Your Highness, the King has requested an audience with you, which I do believe you should attend." - "Well I didn't ask you what you thought, did I?" She snapped at her old friend, with a stern look at him. His expression took on a worried look and he bowed. "I beg your forgiveness Your Highness, I was out of line..." Lilutha's face expression relaxed and she sighed heavily. "I am... Sorry Castien, you did not deserve that. Thank you for your council, I will go see him at once." Walking to the door, the elven Queen stopped beside him, though faced him and she took his hand gently into hers. "Would you mind walking with me?" She was scared, angry and he could see it on her face. "I would be happy to, Your Majesty."
Together, they walked through the halls of the castle. It was hot, like usual. The smell of brimstone would be obvious to anyone who had not lived here for so long, used to it. The decorations were simple, mostly statues and the like. Along one hallway, there were pictures of their family, their descendents. At the end, before their chambers it was the King and Lilutha, looking happy with each other, that was a rare thing with arranged marriages. Standing before the door, Lilutha clutched her old friends are tightly. "It will be all right Your Highness." Smiling in thanks, the Queen opened the door and stepped inside, shutting it behind her. She waited quietly, her back against the door.
Hethurin Naruga04/26/2018
Hethurin got up out of his chair where he'd been waiting patiently. "Sweetheart, there's so much that I need to tell you, but I just don't know how to say it." stated the Elf as he slowly walked towards his wife. "Everything that's happened... to be happy with you for me does not mean having an heir, my duty to our people as king is to keep them happy, and they are happy, an heir, son or daughter, means nothing to me, the only thing that matters to me on this entire continent is seeing you happy." He said now close enough to pull her into a gentle embrace, "Come what may, you are everything and the only thing I always have and will care about, I just hope you know that." he said softly.
Xaei (Iotah)04/26/2018
Lilutha looked up through her lashes, hearing his footsteps get closer and closer toward her, it made the hair on the back of her neck stand up, her body tense. His words were warm, gentle and so sincere. She knew he meant it, every word. The elf sighed heavily, exhaled ash. "None of that matters. I am a Queen. We were set to be married, with the promise of heirs... I... It's not even what is upsetting me!" She exlaimed, pushing him back away from her. "I can't take it anymore. I bare a child, only to lose it a few months later. Three times! I've lost hope. You don't understand. The pain. It takes so much out of me. People are asking about my absences. I hear their whispers, I'm not deaf nor stupid. I know what they must thing. We've been married over one hundred years, and yet..." Her head would hang while her hands rest on her stomach. "I can't take loosing them, over and over again... I just... I wanted a child so bad, but I can't..." The Queen pursed her lips, she couldn't say anymore, tears pouring down her cheeks. "I-I ca-can't..."
Hethurin Naruga04/27/2018
Hethurin pulled her back into his arms. "we will find a way darling, we always do." he whispered stroking her back softly, they stood there for what could have been hours, but it generally felt like nothing, because when he held her in his arms, time in his mind stood still, just as it always had. Pulling back a little, het rubbed her shoulders and smiled, staring, hoping to catch a glimpse of her soft embers, just as he always did. "do you remember how we used to terrorize the guards?"(edited)
Xaei (Iotah)04/27/2018
Her forehead leaned against his chest, and eventually her arms wrapped tightly around his waist. "I'm done finding a way, I'm useless. No matter what I try, remedies, postions, sacrifices, magic, it's not worked. Why are the Gods doing this to me? I have always been good, faithful to them, to you. Why are they betraying me like this?" She felt his warm hands on her shoulders and she raised her head, looking up in his eyes with tars streaming down her cheeks. "What does terrorizing the guards have anything to do with my inability to have children, Heth?" Her head turned away from him, and her gaze thus so, looking off in a random direction as she tried to hold back from crying more.
Hethurin Naruga04/27/2018
He turned her head back to face him gently, we have no idea what the gods have in store for us, if you will be willing to try again.. I will personay consult fhe sisters." he said before stroking her cheek softly. "and i will here no more of this nonsense about you being useless." the king stated in a crisp tone, his words were stern on the matter, but full of truth for he did not care for what the original promise of their arranged marriage was, none of that mattered to him as it would to most.(edited)
Xaei (Iotah)04/27/2018
She shut her eyes tightly, turning her head away from his gentle touch upon her cheek. "You cannot speak for the Gods, but it is obvious this is not going to happen. A hundred years and nothing, except for miscarrages that I cannot bear to endure anymore." His stern words, they hurt. She wanted to believe him, but she'd lost faith. Lilutha pushed her hands against his chest, stepping into him. Reaching behind her, she grabbed the handle of the door. "I'm sorry, I cannot do this right now..." Opening the door she slipped out of his reach, shutting it quickly behind her and hurried down the hallway, to where she might hide for a while.
Hethurin Naruga04/27/2018
Heth turned around flinging a near by table to the side, sending it into a near by wall. Hearing the commotion Castien rushed in having to ignore chasing Lilutha down, it was obvious to the guard that the King was upset that there was nothing he could do for his wife in this situation, and Castien knew exactly how much it bothered him. Hethurin always got like this when he was faced with a situation where lil was upset and he couldn't help, Cas had seen it so many times before. "M'lord..." he said calmly as he watched the king stride towards the door.
"If there is anything that can be done, I'm sure that I will find the answer from the sisters." Hethurin replied, the dedication in his voice worried his long time friend.
"Are you sure this is a good idea? You don't always think things through when you get like-" but he was cut off by The king.
"Get like what Castien? Angry because something up there thinks Lilutha and I were happy for too long? That my wife should suffer these indignities only because she wants to bear a child?" He nearly shouted at the Elf whom remained silent as he watched Hethurin walk out the door after opening it. "I am going to have an audience with the sisters, follow me at your own peril Castien." And with that the door closed.
Jesse Morson04/27/2018
At that moment, Baralineth hadn't yet gathered herself together mentally, neglecting to leave the castle in exchange for an opportunity tonmeander the tall, dark hallways pondering questions she deemed important, as she typically did up in the temple.
Unfortunately however, this meandering has once more put her in someone else's path, her sister-in-law's path. Snapping out of her daze just in time to not get trampled by the Queen she calls out, "Hey Lilutha- I mean Queen Lilutha! Do you have a moment?" Her left arm flies out, generally aimed in the Queen's direction, but not close enough to touch her.
Xaei (Iotah)04/27/2018
Nearly tripping over her feet, she almost fell into Bara, if not for her startling her and she stumbled backwards, catching herself against the nearby wall. "Bara! Wh-What are you doing down here? This... This area of the castle is dangerous, you should not be down here." Lilutha looked around, down the different halls to see if anyone might have followed her sister-inlaw down here. Catching her breath, she walked over to th window at the end of the hall, it was open and it looked out onto the castle grounds, the smell of brimstone was strong in the air, with a warm wind. "I'm sorry, Bara. You just caught me off guard. You should go back upstairs." She gave her sister-inlaw and reassuring smile.
Jesse Morson04/27/2018
"I'm really not sure how I got here. I was just kind of walking and thinking. I'm less concerned about the danger, as much as I am concerned about your wellbeing. I couldn't help but notice you and my brother seemed quite stressed earlier. Do you need to talk about something? I'm a priestess, and your sister." Baralineth asks her sister-in-law, frowning gently as she approaches proper speaking distance. She offers the woman a calm, reassuring smile, genuinely willing to listen.
Xaei (Iotah)04/27/2018
Lilutha gave a small laugh, her sister-inlaws care was touching. The Queen had learned to hide her emotions, most of the time but after everything, seclusion was easier than a false smile. "It was just some political stuff. We banged heads when it came to an idea, to better the Kingdom..." Looking out the window, her expression became blank. "Talking won't fix anything, he thinks it will but we've tried everything. I now know, that it is simply just not meant to happen... The political stuff, I mean..." She sighed heavily, Lilutha didn't like lying to her, but how could she be honest about being dysfunctional? Crossing her arms over her chest, she leant over the balcony, down to the courtyard. After a short while, she turned to face her friend, family. "The truth is... In those times that I spent by myself, sick in my chambers... I had a miscarrage... Several of them. We have tried many times, but every time I reach through half the pregnancy... They... Die... My sickness was caused by the repercussions of... Disposing..." She turned her head away, covering her mouth with her hand, unable to say anymore as she started to cry again.
Jesse Morson04/27/2018
"Oh... Dearest sister, I'm sorry." Baralineth says, frowning as she comes up next to her sister in law, wrapping an arm around her. "Is there anything I can do?" She asks, looking down the balcony alongside Lilutha. She gently rubs her sister's back, hoping to comfort the Queen. "Maybe i can appeal to the sisters for you. Surely they'll help."
April 28, 2018
Xaei (Iotah)04/28/2018
Lilutha leant into her sister-inlaws embrace and sighed heavily, wiping away her tears with the palm of her hand. "I do not know what can be done. I have tried a lot of things, ointments, potions, even sacrifices and prayers. Nothing has worked so far. Heth... He-He is going to The Sisters... To ask them why it is happening. I do not know what it will do, but it is the only thing we have not tried. Maybe... Just maybe they wil have answers. I hope..." She said, trying to convince herself, more than she was Bara.
Jesse Morson04/28/2018
"Fuck me, he's on his way up there?" Baralineth asks, her face going pale as can be. "Lilutha, i'm sorry but we'll need to talk more about this later, in a more private setting. I have to go beg the sisters to not smite our king. I fear he's about to do something very, very, very stupid." She says, frowning gently as she squeezes her sister in law just a tad before releasing her grip. She gently grabs her sister's shoulder once with her left hand, squeezing it once before she starts to run, sprinting as fast as she can for the temple, praying that she'd make it in time to plead for his life.
Xaei (Iotah)04/28/2018
"I am not sure if he is going there right now, but-" Bara cut her off and she frowned at her sudden urgency to leave. "I do not understand, what could he do?" She asked quickly, while Bara conforted her one last time, before disappearing down the hall. "Bara?!" She called after her, would have run after her, if it meant she didn't have to confront the people in the castle. "Damnit..." With a loud huff, she left the window she was standing at, and without being seen she snuck into the library, where she might hide in the fantasy world of a book, trying not to worry on what might be about to happen.
Hethurin Naruga04/28/2018
Hethruin reached the top of the steps and made his way across the rim and to the obsidian bridge, his face was twisted with frustration, his cloak blowing in the heated wind. With his tunnel vision, the quarter of a mile walk across the bridge seemed to take no time at all, soon he was upon the heavy doors crafted from lava rock which he shoved open all most with rage fueled ease. The Priests and Priestess' stopped dead in their tracks, it had been many a year since cell they'd seen the king set foot in the temple, and the look on his face did not put their minds at ease, the thin crowd parted as he strode through the temple, flinging open the doors to the divine chamber. As the elf crossed the threshold of the dark room, the doors slam shut behind do him leaving him engulfed in the blackness of the inner sanctum. A moment later the braziers lit almost by themselves and flame shot across the floor in small crevices as he slowly made his way further in. Once the pattern in the floor was completely afire two voices filled the temple.
"King Hethurin Naruga, son of Aendaer, what warrants this unscheduled visit!?" The voices called out.
"It has been a hundred years, my wife's children still die in the womb for no reason! I came for answers!" Hethurin called back, and just as quickly as the words left his mouth two slender figures made of heated rock and flame were in the young King's face.
"And why would you think that we would have anything to do with such misfortune boy king?" They asked in unison, the raspy echoes in their voices now more apparent, "For centuries we have kept up to our end, only for a mere child to barge in and disturb our rest with such... blatant accusations on matters of which we have nothing to do with, why?"(edited)
Taking a deep breather, the King composed himself before Annúngilel and Dinenil, thinking of his next words before he spoke them. "Please.." Hethurin asked dropping to his hands and knees, bowing his head before the sisters. "Please tell me what I must do, w-we can no longer handle the suffering that the loss has put upon us!" He pleaded, eyes welling up with tears.
"On your feet, for we will not continue conversation with a king who is sniveling like a scared child!" They ordered, and just like that Hethurin was back to his feet, and the sister's continued, "the answers you seek are the end to a curse bestowed upon your bloodline by the Warlock Samar, carrying hatred in his heart for your father's execution of his only son. If you do wish to see your wife bear children, you will bring us the warlocks head, and we will help you despite your.. intrusion.."
Hethurin bowed his head, "it shall be done, I am most great full for the kindness and mercy you have shown me on this day."
Just as the stone doors flew open, a rush of wind filled the sanctum blowing out the fires, and once more the king was alone, he knew what must be done now, it was time for Samar to suffer.(edited)
Jesse Morson04/28/2018
Just in time to have missed literally everything Baralineth sprints into the temple, panting like a bitch in heat, her muscles aching from the run.
"WHERE IS THE KING? I DEMAND TO KNOW!" Baralineth bellows as loud as her burning lungs will allow, looking between the other priests & priestesses, glaring at them until one of them points in the direction he had run in. Once more she spurs herself into a sprint, screaming insults at every single person she passes. She would continue to sprint as fast as she could until she abruptly comes to a stop, smacking her face directly into the chest of the man she'd come to save. She bounces off of him and on to the floor, gasping and struggling to breath as she tries to regain enough breath to speak, her chest rising and falling faster than her feet had carried her(edited)
Hethurin Naruga04/28/2018
Hethurin looked down to his sister, both stood in the dim light that shone in from the open doors. "The answers I seek lie in the curse bestowed upon this family by Samar..." Hethurin said, a flicker of fire light flashing through his Ember hues, "go inform my Queen that our troubles have nearly come to a close." With that said, Hethurin proceeded back down to the castle, running into Castien whom had been waiting in the courtyard.
"I've heard the whispers of the guards and scouts, put out a summons for the one called Death's Grave Digger, she is to not be touched by the guards, she is to appear before me of her own free will, tell the scouts to spread word that the crown has a favour to ask."
Castien knew better than to ask questions, he simply nodded, bowed, and followed his orders.(edited)
Odd Viking Studios04/28/2018
With the reading that the new-ish queen had been doing lately, the city was more structured than it had been in the past ten or so years. There were guidelines and laws to follow as well as punishments for those who went against them, but Vostra had an overall sense of "do whatever you want" that remained distinctive. Small, well-hidden dens were established throughout Valeria and some trade was taking place, allowing the name of Death's Grave Digger to spread in fear and whispered bar-talk. How it had reached the words of the royals Sephiria had no idea, and when a young Fire Elf requested access to the castle on behalf of Braidwood, it caused her to instantly bristle. That damned man-child she'd taken some years back was surely coming to bite her in her pale ass. When the scout had entered the city, two Drow guards heard him out and then sent a messenger out to the vampire. This prevented any unforeseen accidents, and was the way that all guests of the castle were dealt with. Sephiria had been reading at the time in the throne room out of pure boredom, droning in a sarcastic tone to herself the words of the historical text, when the being approached her. The messenger was like the rest, a lesser demon, that had the appearance of a midget naga.
"There is a guesssssssssssst on behalf of Hethurinnnnnn," the creature rasped, causing the woman's silver pupil-less eyes to shift up from the tome. She nodded for the being to continue, and it spoke again. "He wishessss to speak with you personally. It is of great importanccccce, for the one they call Death'sssss Grave Digger." The last bit was almost ground out in a malicious tone, and the vampire grinned sadistically. Snapping the book shut, she stood.
"Send him in."
Hethurin Naruga04/28/2018
The young Fire Elf slowly entered the room and stopped a good distance from the throne, it was out of respect that he came no closer without explicit permission. "I bring word from King Hethurin Naruga, the guards and other scouts have been specifically instructed to not lay a hand on you by threat of execution... My King has a favour to ask of you, and he shall grant you one in return, he is waiting to hear from you, should you accept."